Computer Sales
Whether for your home or office, tell us your needs and you budget and we can give you what is best for you.
Whether it's for personal use, gaming, or your business, we can help get you the computer that is right for you. Do you need one laptop or ten computers for individual workstations at your office? We have you covered.
Computer Repair
Computers...can't live with them, cant' throw them off of your desk!
Maybe you have a thousand pop-ups on your screen and are infected with malware. Did your hard drive crash and you are worried you've lost all your files permanently? Don't despair. We can help.
Web Design
Professional looking websites that are mobile friendly and easy to navigate.
Let us create for you a beautiful website to showcase your business. Whether you need an online portfolio to show your work to potential clients, or just want a site that lists the days and times you are open, we can help.
Graphic Design
Logos, Business Cards, Brochures and More...
With Cybermania's design packages, you can have a logo and matching collateral material all at your disposal. Clients are impressed when you can hand them marketing pieces that look professional and polished.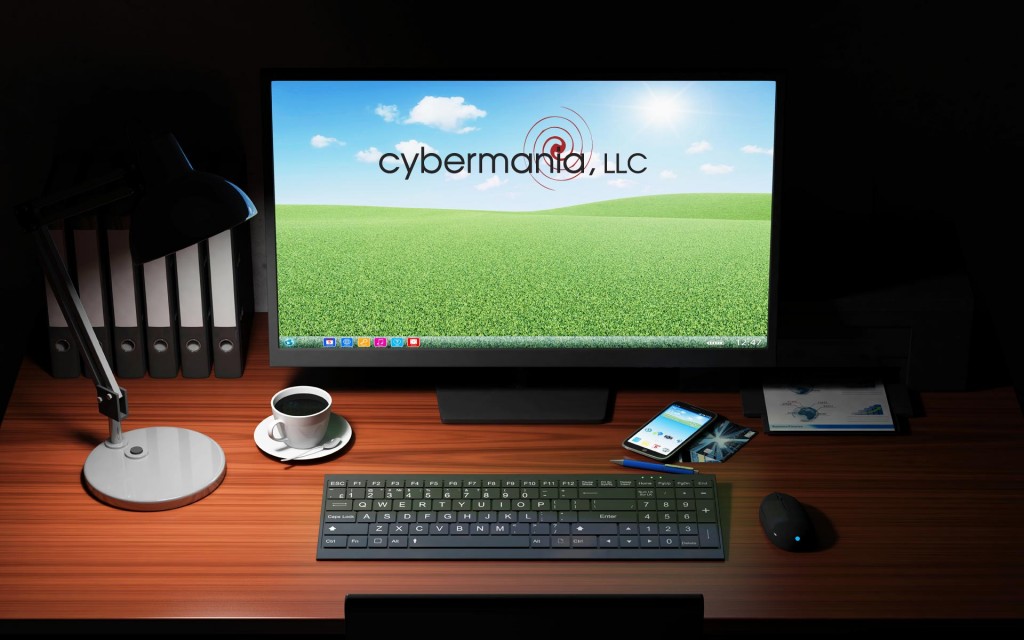 As our name implies, we spend our days surrounded by all things "cyber" related. From computer sales and repair, to networking, offsite backup and anti-virus, as well as website development and graphic design, it is our goal to help your business reach new levels of success. When you can work more efficiently because your computer system is running properly… we're satisfied. When you get new clients because they've visited your website and are impressed by what they see….we're satisfied.
We've built our business on word-of-mouth advertising – one happy customer referring us to their friends and family. You should be part of that group as well!
Custom Built PCs, Preventive Maintenance, Installations, Repairs, Upgrades, Networking, House Calls, Data Retrieval. We can take care of all of your home or small business needs.
Carbonite cloud and hybrid data protection combines advanced backup, rapid recovery and anytime, anywhere access to help businesses stay connected to their data under any conditions — natural disasters and local interruptions included.
 We offer F-Secure Protection for both Homes and Businesses. We believe you should have the freedom to live your digital life without worry. Contact Us for virus protection, browsing and banking protection, network protection, device and server security, mobile security and more.
 Whether you have two computers or twenty, we can set up your network so that you can have seamless interaction between workstations without stress or hassle. From servers to workstations, authorized access and locked directories, we can set you up in whatever way works best for your business or home.
We treat our clients like family
We use terminology that you can understand instead of confusing you with technical jargon
We have been in the computer repair and web design business for over 20 years
Pick up and delivery service offered for repair jobs and new system setups
Remote support available for issues that can be resolved over an internet connection
"LENNY@CYBER MANIA COMPUTERS IS THE MAN! "(after getting his new laptop from Cybermania)
"Jaime is purely professional in performing functions dealing with both graphic design and website development/maintenance.
She does excellent, creative work, is always available, superb to work with, and makes excellent business recommendations. Her services are woth many times the money charged.

The other arm of Cybermania's business revolves around building, selling, maintaining and repairing computers and networks. This work is done by Jaime's father, Lenny Garry. Lenny is another person you can always count on.

It's good to have Cybermania supporting my business. Cybermania's assistance helps me sleep at night, with few of the worries that normally accompany having to depend on computers and networks in order to keep my business moving along, especially since I don't have the time or the inclination to become highly technical.

Jaime and Cybermania are highly recommended!"
"Jaime knows her stuff! She does a great job and does it with a smile."